Here we are, in the midst of National CRAFT Month, with National QUILTING Day just ahead on March 15, and thanks to the National Quilting Association, it seems even that has been extended into National Quilting Month!  Why not?  That just gives us 30 additional excuses to indulge our passion for beautiful fabrics, patterns, gadgets and embellishments! Check out NQA's free pattern in honor of the the month-long event, Stash Attack.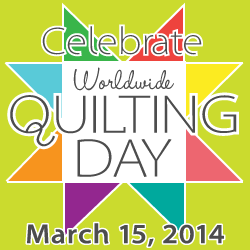 Taking a good thing a step further, March 15 has also been designated Worldwide Quilting Month, with a list of participating shops that grows each year, offering shopping sprees and events galore!
To top it off, March is also Women's History Month, so no matter how or what you choose to celebrate, you've still got time   ; )  Visit your local quilt shops, craft retailers and fabric stores for some great inspiration…Enjoy!